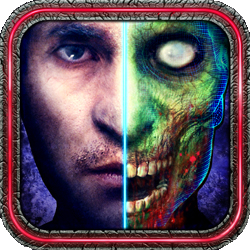 ZombieBooth: 3D Zombifier
How would you look as a zombie? What about your friends? See for yourself, with the scariest iPhone app of all time!
ZombieBooth is a fun iPhone app that can transform a single face photo into a 3D, animated zombie. There are over 50 variations, you can even choose how the zombie looks like! You can hear the zombie growl, and see them blink, scowl and breathe.

Touch the screen, and the zombie will react depending on where you touch it. For instance, it will try to bite your finger if you tap on the mouth.

You can pload the zombie photos directly to Twitter, and share with your friends!

Caution: ZombieBooth contains scenes with horror and blood. Parents and guardians of young children are advised to refrain from letting the children use this app.
Video Demo

See ZombieBooth in action!